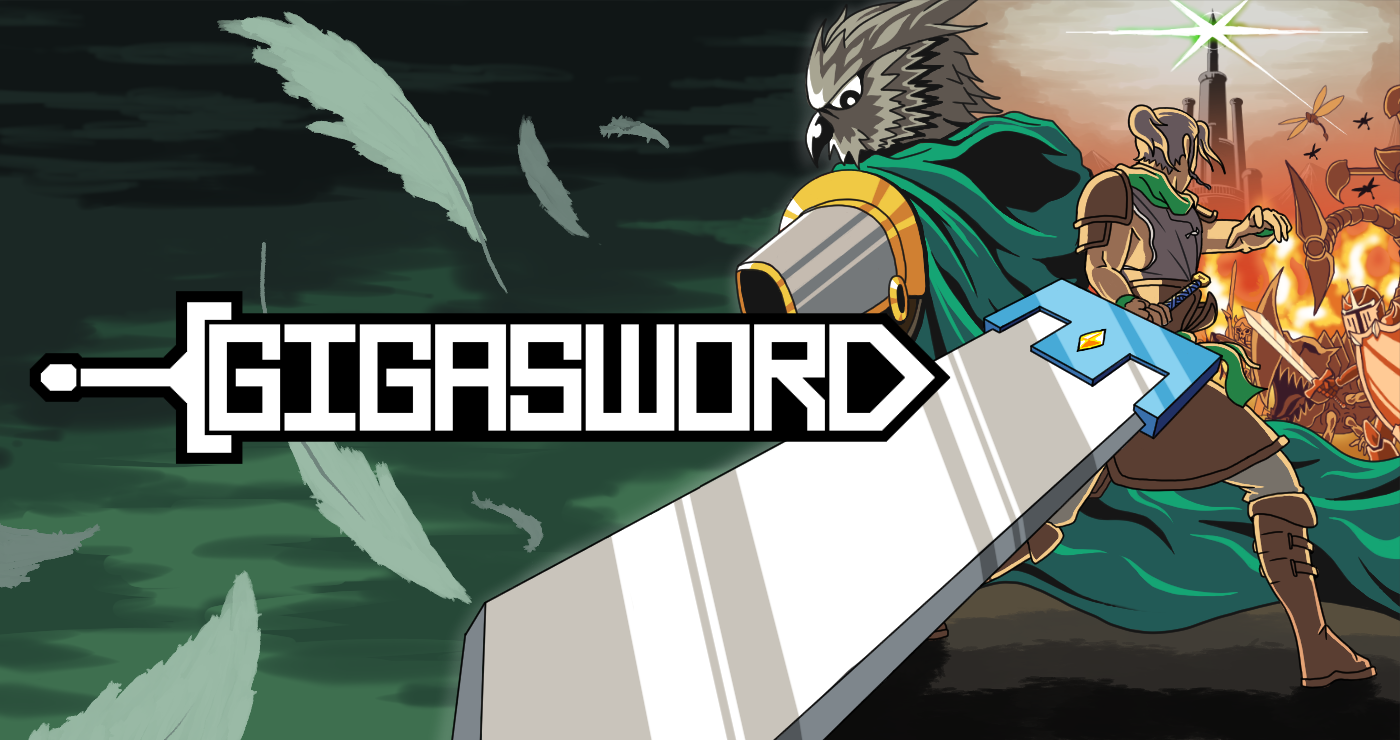 GigaSword | Kickstarter Demo
GIGASWORD HAS BEEN FUNDED ON KICKSTARTER!
Find the Kickstarter here: https://www.kickstarter.com/projects/726600008/gigasword-an-action-puzzle-metroi...
GigaSword is an action-puzzle metroidvania in which you wield a huge sword that weighs you down. By sticking the sword in the ground, you're able to jump higher, but you become unable to attack. Many of the puzzles revolve around sticking the sword into interactive objects that transport it around the room to areas you wouldn't have been able to reach while holding it. With cataclysm on the horizon, it's up to you to ascend the ancient tower and recover the God Crystal, Gnosis.
For those of you who played last year's demo, most of the content here should feel familiar. However, there are a ton of new features included in this demo, such as:
-Map Screen: The game now has a map screen!
-Redesigned Areas: Both the Outskirts and the Monastery feature new tilesets, background art, and re-designed layouts!
-New enemies: Face off against fearsome foes! Many of the other enemies have improved AI as well.
-Health Upgrades: Collect all five emerald feathers and offer them to any save point to increase your maximum health!
-Sword Upgrades: Use the Ore you collect from enemies and chests to unlock new attacks! In this demo, you can unlock Crawling Spark; a ranged attack that fires from the sword when your health is full.
CONTROLS:
(On Keyboard)
Move = Arrow Keys
Jump = Space
Attack = C
Dodge = X
Drop Sword = Z
Map = M
(On Controller)
Move = Left Joystick
Jump = A (on xbox gamepad)
Attack = X (on xbox gamepad)
Dodge = Left Bumper
Drop Sword = Y (on xbox gamepad)
Map = Select
Also, you can press f11 to change the window size.
Thank you all so much for following me on this journey. GigaSword has come so far in the last year of development, and it wouldn't have been possible without the love and support of the community.
If you'd like to stay updated on all things GigaSword, come join the official Discord server! https://discord.gg/ZXH6XPUaKh
Other links:
Patreon: https://www.patreon.com/JackBreen
Youtube: https://www.youtube.com/channel/UCh1fijKgdW9n0rSUngWkHOw

Twitter: https://twitter.com/Hybrid_Games_
UPDATES AND BUG FIXES:
2/4/22 - Recovery Chest was not returning your Ore if you had been killed in the air. This has been fixed.
Download
Click download now to get access to the following files:
GigaSword_22DEMO_fix3redo.zip
23 MB